Product Description
Viafluor™ CFSE Cell Proliferation Kit (formerly called CFDA-SE Cell Proliferation Assay Kit) uses the amine-reactive dye CFSE (carboxyfluorescein diacetate, succinimidyl ester, also known as CFDA-SE). The membrane permeable compound is non-fluorescent until it enters viable cells, where it is hydrolyzed by cytoplasmic esterase enzymes to releases the green fluorescent amine-reactive dye carboxy-fluorescein SE. The dyes then covalently react with amine groups on intracellular proteins, forming fluorescent conjugates that are retained in the cell, while excess unreacted dye is washed away.  Immediately after staining, a single, bright fluorescent population will be detected by flow cytometry. With each cell division, daughter cells inherit roughly half of the fluorescent label, allowing the number of cell divisions that occur after labeling to be detected by the appearance of successively dimmer fluorescent peaks on a flow cytometry histogram compared to cells analyzed immediately after staining (Figs. 1 and 2).
Cell proliferation dyes can be used to track cell divisions in vivo or in vitro. The staining also can withstand fixation and permeabilization for subsequent immunostaining. CFSE can be detected using optical settings for FITC.
Each kit contains 10 lyophilized dye vials, anhydrous DMSO for preparing stock solutions, and a labeling protocol. One kit can be used to label at least 1.8×108 cells; the final number of assays that can be performed per kit depends on the dye concentration used (see product protocol under downloads).
Biotium also offers blue fluorescent ViaFluor™405-SE and red fluorescent ViaFluor™568-SE Cell Proliferation Kits. Carboxyfluorescein diacetate, succinimidyl ester (CFDA-SE or CFSE) is also available separately.   [one_half padding="0 10px 0 0″]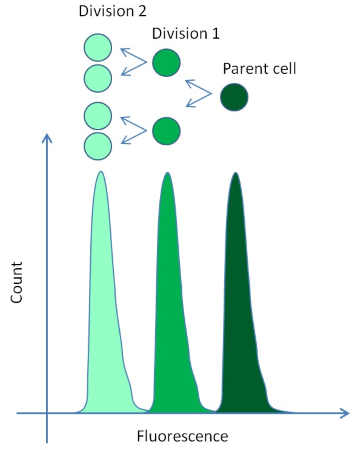 [/one_half] [one_half_last padding="0 0px 0 10px"]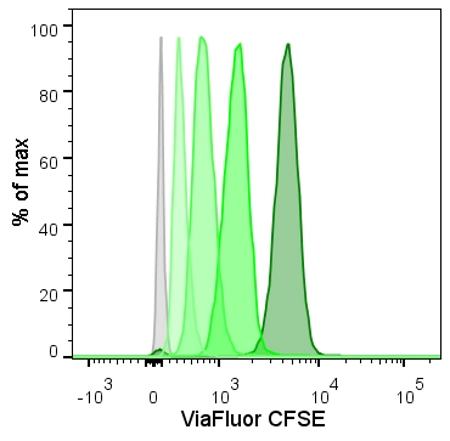 [/one_half_last]
Compatible with the
NucleoCounter® NC-3000™
.